The Weakly Webb WoundUp #3
This week we received confidential information on Jim Webb. We turn to select members of the B-Team for information. Take your time, click all the links. The B-Team has some great info!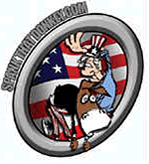 Spank that Donkey asks "Hey Webb, What ever happened to "Once a Marine, Always a Marine"? Great question from one Marine to another. He also inquires about the Body Armor Poo Poo that the Webb campaign heartily embraced. STD like most is confused after reading about Webb. He finishes his report with I must be seeing things...
This blogger has some rare photo's of Webb. This info is classified. It has become clear that Webb has a problem with women. Jim likes to apply labels to the ladies who serve.
This sexism has brought the wrath of SWAC GIRL down on him. She reports "The gentle giant known as the conservative base has been awakened....Infact, the ladies have organized to let their voices be heard! She speaks of one such event here, and updates us with this information. She wants it to be known that the Allen Grassroots are fired up!
Wise Girl is also mad as hell. When read all of this information it is easy to see a pattern in Jim Webb.
This week Webb Entertainment's video game Drive By won game of the year. More about that here. We also have a new Webb campaign commercial. To close this out, SWAC Girl has The Webb Campaign is Bottom of the Barrel.