Amnesty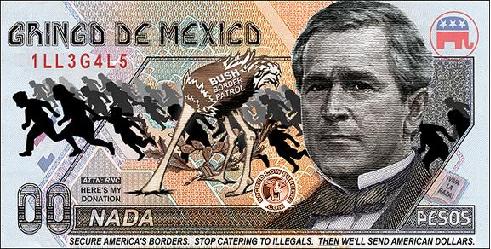 To say I am PO'd is the understatement of the century.
WASHINGTON - In a striking reach across party lines, the White House and key lawmakers agreed Thursday on a sweeping immigration plan to grant legal status to millions of people in the country unlawfully.
Sealed after months of secretive bargaining, the deal mandates bolstered border security and a high-tech employment verification system to prevent illegal workers from getting jobs...
LINK
.
Bolstered border security via McCain?
REP. DUNCAN HUNTER (R), CALIFORNIA: Listen, we passed my bill in October that calls for 854 miles of border fence across Arizona, New Mexico and Texas. The Senate bill cuts my fence in half, literally takes it down to 370 miles.
That's going to do a lot to damage enforcement on the border. You have to have an enforceable border. The Senate bill takes us the wrong way.

U.S. Rep. Tom Tancredo:"Senator McCain and his allies seem to think they can dupe the American public into accepting a blanket amnesty if they just call it 'comprehensive' or 'earned legalization' or 'regularization." "The President is so desperate for a legacy and a domestic policy win that he's willing to sell out the American people and our national security. If Senator McCain and Senator Kennedy spent as much time working on improving border security as they did poll testing creative euphemisms for amnesty, America would be a much safer place"

Fred Thompson: "With this bill, the American people are going to think they are being sold the same bill of goods as before on border security. We should scrap this bill and the whole debate until we can convince the American people that we have secured the borders or at least have made great headway."
BUILD DUNCAN HUNTER'S BORDER FENCE!
Labels: Duncan Hunter